Why Go-Go Elite Traveller Plus 3-Wheel Is The Best Traveling Companion Ever
Central Mobility
There are many travel products on the market today, and it can be hard to decide which one is best for you. Go-Go Elite Traveller Plus 3-Wheel is one of the most popular travel products because it is both affordable and versatile. With this product, you can travel easily and enjoy your trips more.
The Features of Go-Go Elite Traveller Plus 3-Wheel
300 lbs. weight capacity
Up to 4.5 mph maximum speed
5″ turning radius
Up to 14.5 miles per charge
A standard front basket provides storage
Feather-touch disassembly easily disassembles into 5 lightweight pieces for transport and storage
Charger port located on the tiller lets you conveniently charge your scooter
The dual voltage charger permits charging the battery pack on-board or off-board for added convenience
Delta tiller with ergonomic wraparound handles lets you operate the scooter with one hand and rest your wrist
Standard LED lighting
Pride's exclusive black, non-scuffing tires
Stable, front frame-mounted seat post
Includes two sets of easily changeable, red and blue colored shrouds
HCPCS Code: K0806 – Group 2 Standard (Must be billed to Medicare as either a beneficiary requested upgrade with a properly executed ABN, or as an upgrade at no additional charge to the beneficiary.)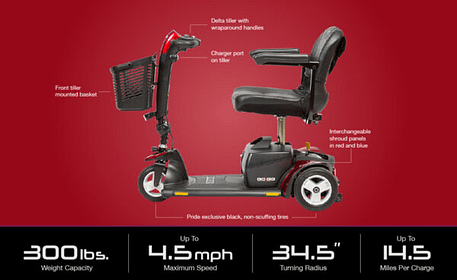 How to use Go-Go Elite Traveller Plus 3-Wheel
Go-Go Elite Traveller Plus is the perfect traveling companion for anyone who wants to feel in control and have a lot of fun. This 3-wheel travel machine is lightweight and easy to transport, so you can take it with you wherever you go.
The Go-Go Elite Traveller Plus is one of the safest travel machines on the market. It has a safety guard that will protect you if something goes wrong, and it also has a security system that will keep your belongings safe while you are away.
Pros and Cons of Go-Go Elite Traveller Plus 3-Wheel
When it comes to traveling, there are a lot of things that you have to take into account: the cost of flights, the length of your trip, the type of travel you're doing, and so on. But one of the most important factors when planning your trip is choosing the right gear.
If you're looking for a reliable and comfortable way to travel, then you should definitely consider using a go-go elite traveller plus a 3-wheel. This travel gear is perfect for those who want to experience all the best that Europe has to offer.
Here are some of the benefits of using a go-go elite traveller plus 3-wheel:
It's Reliable: The go-go elite traveller plus 3-wheel is built with quality materials and construction. This means that it will withstand a lot of wear and tear while on your travels.
It's Comfortable: The go-go elite traveller plus 3-wheel is designed with comfort in mind. You won't have to worry about feeling uncomfortable while on your trip, as this travel gear is designed to provide ultimate comfort for both you and your passengers.